Kiln Shell Replacement
Long term, trouble free operation of a kiln requires proper care of the shell and sometimes this requires the timely replacement of a damaged or distorted sections.
Uptime is critical to the success of any processing operation. The urgency to maintain production can lead to plant operation equipment in need of repair for longer than practical. (Figure 1) There are few large pieces of equipment for which the consequences of doing this are more costly then a rotary kiln.
Continuing to operate a kiln with a damaged shell generally results in excessive unscheduled downtime, increased refractory costs and could lead to a complete failure of the shell. There is also the potential to injure site personnel and cause collateral damage to surrounding equipment if the shell catastrophically fails. The way to avoid these issues is to replace damaged shell sections in an orderly, planned way.
Inspection
There are a number of methods a plant can use to monitor the condition of a kiln shell. The typical kiln shell inspection technique include the following:
Visual (including photos)
Ovality measurements
Temperature measurements
Thickness (using ultrasonic testing)
Runout (polar charts)
An operating and maintenance routine that includes these inspections will prevent catastrophic failures and minimize unplanned shutdowns.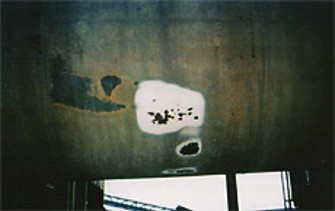 Causes
There are many causes for kiln shell damage including loss of electrical power, process problems, drive and support system failures and missing refractory/hot spots. (Figure 2)
An unscheduled outage due to a power or equipment failure can cause significant damage to a kiln shell. Extreme shell temperature differentials can bow the shell to the point of lifting the tyres off the rollers. This will lead to a reduction in the life of the refractory and to further on-going maintenance and process issues. The destructive cycle of shell damage causing refractory failure and refractory failures causing more shell damage must be avoided.
Installation
Kiln Shell Replacement 3Replacing shell sections is not a difficult task for properly trained and equipped field crews. The proper removal of the existing section (Figure 3) is critical to allow the new section to be correctly installed.
Experienced field personnel are the key to the correct installation of a new kiln shell section and to maintaining the repair schedule. Incorrectly installed shell sections will have runout and radial mismatch that can negatively affect the life of the refractory and the operations of the kiln.
For more information about kiln shell replacements and ongoing repair and maintenance, call or email us.